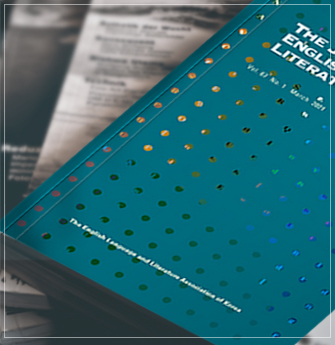 The Journal of English Language and Literature, or JELL(ISSN 1016-2283), is Korea's leading academic journal covering the convergent fields of English studies, culture, education, and interdisciplinary humanities. The journal is double blind peer-reviewed, and published four times a year by The English Language and Literature Association of Korea (ELLAK). The journal also appears online, in full text and open access (E-ISSN: 2465-8545). The first issue of JELL was published in July 1955 and, since then, has provided opportunities for ELLAK members to disseminate scholarship to readers both locally and internationally. Scholarly papers appearing in the journal span all historical periods up to the present moment, and explore diverse geographic sites and texts throughout the English-speaking world; papers appearing in JELL mobilize state-of-the-art analyses, deploying both emergent and canonical theoretical frameworks. This broad scope reflects the particular historical contexts of the journal, which was launched in the aftermath of the Korean War. From the outset, JELL has striven to create an interdisciplinary space promoting both compositional excellence and enduringly relevant critique.
JELL is proud of its singular contribution to the development and consolidation of English studies in Korea. For the past decade, the journal has redoubled efforts toward encompassing the manifold areas of English language and literature in which ELLAK members conduct their research, including (but not limited to) literatures in English, English language studies, cultural studies, critical theory, film studies, comparative literature, world literature, translation studies, pedagogy, and digital humanities. As such, JELL welcomes submissions of high quality, unpublished, original research pertaining to language and literature per se; we also publish scholarship thematically relating to ELLAK's annual conference. Annual themes are located in the below. Over the past five years, our annual themes have connected with areas of emergent literary, theoretical, social, and cultural interest:
---
Spaces / Spatialities: Practices, Encounters, and Articulations
The Interface of Literature and Economy
Narrating Rights: Literary Texts and Human, Nonhuman, and Inhuman Demands
Encounters with the Posthuman: Materiality, Vitality, Narrativity
Nurturing Global Citizens within War and Violence Narratives
The Age of AI and Machine Translation: What Can Language, Literature, and Education Do?